QUALICHeCH FACT SHEET 21: Quality framework for reliable fan pressurisation tests
QUALICHeCK recently released several new factsheets. Factsheet #21 describes the quality framework for reliable fan pressurisation tests.
Airtightness performance of the building has a significant weight in the Belgian EPB-calculation and the number of pressurisation tests in new buildings is strongly increasing. To face the potential lack of tester's skills and to ensure a reliable value, a quality framework has been developed according to which testers have to pass an exam and could be controlled. This factsheet describes the relevant quality framework and its context.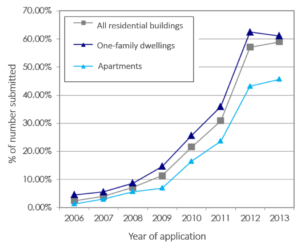 Figure: Evolution of pressurisation test numbers for new buildings in the Flemish Region of Belgium
All factsheets are freely accessible and browsable by date and topic at the QUALICHeCK website.