| | | | | |
| --- | --- | --- | --- | --- |
| UK | FR | SE | DE | NL |
| Adhesive | Adhésif | Adhesiv | Kleber | Lijm |
| | Colle | Lim | Leim (Holz) | |
| Adhesive membrane | Membrane adhésive | Självhäftande membran | Selbstklebende Membran | Zelfklevend membraan |
| Expanding foam | Mousse expansive | Expanderande skum | Expandierender Schaum | Expanderend schuim |
| Fastener | Attache/matériel de fixation | Fästelement | Befestigung | Bevestiging |
| Grommet | Joint d'étanchéité | Membran genomföring | Tülle | (Doorvoer)tule |
| Joint | Joint | Skarv | Fuge | Voeg |
| Sealant | Mastic/Mastic d'étanchéité | Tätningsmedel | Dichtstoff | Voegkit |
| Backer rod | Fond de joint | Bottningslist | Hinterfüllschnur | Rugvulling |
| Mastic | Mastic vitrier | Kitt | Fensterkitt | Stopverf |
| Plaster | Enduit ou plâtre | Gipsbruk | Putz | Pleister |
| Pre-compressed tapes | Mousse imprégnées | Svälltejp | Vorkomprimierte Fugenbänder | Voorgecomprimeerde voegbanden |
| Repair tape | Adhésif de réparation | Reparationstape | Reparaturband | Hersteltape |
| Tape | Ruban adhésif | Tejp | Klebeband | Kleefband |
| Vapour barriers or retarders | Pare-vapeur/Frein-vapeur | Fuktspärr | Dampfsperre/Dampfbremse | Dampscherm/Damprem |
| Liquid membrane | Enduit liquide | Flytande membran | Flüssigmembran | Vloeibaar membraan |
| Gasket | Joint d'étanchéité | Packning | Dichtung | Pakking |
| Intumescent gasket | Joint intumescent | Svällpackning | Intumeszierende Dichtung | Intumescerende dichting |
List of tightening products – Translation from English to French, Swedish, German & Dutch
Adhesive
It is a nonmetallic substance which is capable, after changing from a liquid into a solid state, to bond materials together by means of adhesive and cohesive forces. The transition from liquid to solid state either happens through physical drying or through chemical curing.
Note:
Adhesion = bonding to a substrate by attraction between molecules and/or atoms of different substances (adhesive/substrate)
Cohesion = attraction between molecules and/or atoms within the same substance (adhesive)
Adhesive membrane
(Slightly) flexible film or foil, usually consisting of a plastic core laminated together with one or more nonwoven fabrics, and used to seal joints between the peripheral of a window and the wall. The film can be plastered thanks to the nonwoven layer(s). These films come in more vapour tight versions for interior use or more vapour open versions for outside use. Some have variable Sd-values. Standard tapes come with a single self-adhesive strip to bond the tape to the window frame, and are bonded with a liquid adhesive to the wall. Others are equipped with self-adhesive on both sides, up to fully self-adhesive on the wall side.
Expanding foam
Expanding insulating material applied to fill gaps, to fix doors and to insulate connecting joints (especially between window frames and wall). Most common are polyurethane based foams (either standard or low monomeric), but foams can also be isocyanate free or even waterbased. Foams are applied out of a can by use of a propellant; best results are achieved with gun foams. Some foams even are elastic providing durable thermal and acoustical insulation and tightening.
Fastener
Material or device to mechanically hold 2 or more objects securely together.
Grommet
Material used to create an airtight seal around circular-section elements such as plumbing pipes, electrical conduits or cables as these pass through the airtight layer. Often rubber based, or combined with fabric.
Joint
Junction where building elements or parts of a construction meet. Often these joints are a result of irregularities of the materials meeting, but they can also be intentionally planned to take up movement (expansion joints).
Sealant
A flexible or rigid substance that is used to seal joints, holes or cracks in order to prevent gases, liquids or solids from passing between these surfaces. Elastic or plastic sealants can be either chemically curing or physically drying, and are for instance acrylic, silicone, polyurethane, or hybrid polymer based. Main applications are sealing of inside or outside façade joints, sealing glass, etc. Important for a sealant to maintain it's (airtight) properties is that it keeps its cohesion and adhesion, assuming movement capabilities to cope with joint movement. Check for ISO 11600 classes or CE marking classes, an indication on movement capability.
Silicone
Characteristics
Best known sealant
Excellent adhesion on many substrates – especially smooth ones (glass,…)
Excellent resistance against UV, ageing & weather conditions
Moisture curing
Limitations
Not paintable (or very limited)
Poor adhesion on wet substrates
Risk of migration and staining on natural stone or porous substrates
Applications
Sanitary
Façade
Glazing
Floor applications
Polyurethane (PU)
Characteristics
Elastic sealant and adhesive
Very good adhesion on concrete & metals
Moisture curing
Limitations
Less adhesion on plastics and coatings
Danger labeling
Bubble-formation during curing
Less UV-resistant
Applications
Façade
Floor applications
Hybrids
Characteristics
Elastic sealant, combines properties of silicone and PU sealant
Very good adhesion on a variety of substrates, also plastics etc
Good UV resistance
Paintable (with waterbased paints)
Usually no danger labeling
Moisture curing
Limitations
Usually slightly more expensive
Applications
Sanitary
Façade
Glazing
Floor applications
Acrylics
Characteristics
Excellent paintability
Good adhesion on porous substrates and aluminium
Low price
Higher Sd-values
Curing by physical drying (loss of weight shrinkage)
Limitations
Possibly less adhesion to glass or PVC
Mainly used for indoor applications only
Limited joint movement capacities
Packaging needs to be stored at >5°C
Applications
Interior joints
Paintable joints
Backer rod
Polyurethane (softer) or polyethylene (harder) based foam material used in conjunction with a sealant. It not only prevents spillage of material but more importantly prevents three point adhesion of the sealant. In case of a three point adhesion, the sealant has to follow the material movements in 2 different directions which will cause it to crack over time.
The backer rod is not airtight on its own.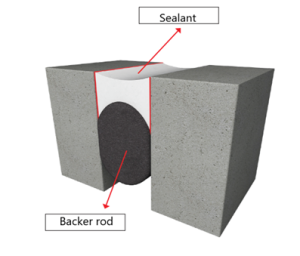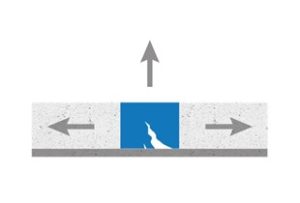 Mastic
Putty-like sealant usually oil based not really able to cope with a lot of movement
Plasters
Fluid or paste-like mixtures made of cement, lime, or gypsum. These products are spread or projected on the surface.
Pre-compressed tapes
Impregnated and compressed joint sealing tapes that come on rolls. They can seal a variety of connection and movement joints by expanding after being applied. Their application is made easier by means of a one sided self-adhesive layer, but they finally seal by expansion. They usually are made of polyurethane foam and impregnated with acrylic resin. Several classes exist, ranging from driving tight expanding tapes, airtight versions, and insulating tapes or a combination thereof.
Repair tape
Oversized tape roll or flat patch typically used to repair holes in films or holes made on purpose e.g., for blowing insulation.
Tape
Narrow strip of material or fabric provided with an acrylic pressure sensitive adhesive to seal overlaps and connections of vapour barriers or other construction materials. The carrier material can consist of different types of films, determining also its main function of application.
Vapour barriers or retarders
Membranes or films of large areas originally intended to limit or regulate vapour transfer within vertical walls and roofs. When properly and continuously installed and at the right location, they prevent interstitial condensation, in particular at the cold side of the insulation layer. Their composition can be very diverse, e.g. they can be partly made of polyethylene, polyester, polyane, aluminium, bitumen, etc. They are usually airtight unless perforated.
Liquid membranes
Liquids that are either sprayed or applied with a brush on other construction materials and/or transitions of materials in order to make them water- or airtight. Airtight coatings are usually waterbased and can contain fibres to provide for better gap filling properties.
Gasket
A piece of pre-shaped rubber or some other elastic material that is used to make a tight seal between two parts that are joined together, for instance between the movable and fixed part of a window frame, or between two duct segments.
Intumescent gasket
Joint made for fire resistance. An intumescent seal is a strip of material fitted around ventilation duct or building element, that when exposed to heat, expands closing any gaps around the duct or building element to stop the fire spreading for a period of time.