Retrotec's rCloud app revolutionises blower door & duct testing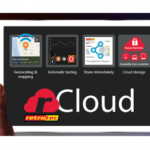 Retrotec brings you the rCloud app, a revolutionary way to securely perform and report reliable, repeatable results.
rCloud geolocates your location and automatically performs blower door or duct tests to common standards. Then immediately creates secure compliance reports to be viewed anywhere.
The rCloud app connects directly to your DM32 WiFi smart gauge.  Set-up your equipment, open rCloud on your smartphone, tablet or PC, choose the geolocation feature and select the test type. rCloud does the rest.
Available for iOS, Android, and Windows 8.1 & 10.
View additional rCloud information here.