Introducing Retrotec's SmartCloth™ Wind Dampening Blower Door Cloth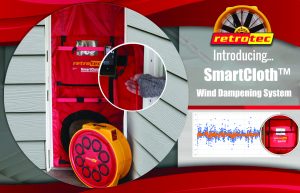 The Answer to Wind Issues in the Field.
Despite the ubiquity of the wind problem when performing a blower door test, no manufacturer has offered an adequate solution. Until now.
Retrotec's SmartCloth™ is a true industry breakthrough. The new design makes it possible to get a more accurate BIAS pressures in windy conditions. This provides advantages over the traditional methods of placing the reference tube outside on the ground.
Test in windy conditions
Keep tubing free of water
No longer accidentally place tubing too close to the fan, which can cause the manometer to read flow velocities
Visit www.retrotec.com or contact us at salesEU@retrotec.com or +31 (0) 522 282941 for more information.