QUALICHeCK factsheets relevant to ventilation & airtightness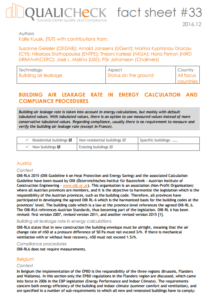 QUALICHeCK ended in February 2017. The consortium has archived its key findings in several reports and 59 factsheets. Factsheets are short 2- to 10-page documents highlighting specific results. The factsheets specifically related to ventilation and airtightness issues, field data, and solutions are listed below:
FACT SHEET #01 | Building regulations can foster quality management — the French example on building airtightness
FACT SHEET #03 | French voluntary scheme for harmonised publication of ventilation product data
FACT SHEET #05 | Voluntary scheme and database for compliant and easily accessible EPC product input data in Belgium
FACT SHEET #06 | Regulatory compliance checks of residential ventilation systems in France
FACT SHEET #07 | Building airtightness in France — regulatory context, control procedures, results
FACT SHEET #09 | AMA – General material and workmanship specificationsFACT SHEET #10 | The Swedish Lågan programme for buildings with low energy use
FACT SHEET #11 | The Swedish Sveby scheme – standardise and verify the energy performance of buildings
FACT SHEET #18 | QUALICHECK Study Greece – Compliance with the reference values of the technical directives: on-site measurements of ventilation, temperature and relative humidity and comparison with the reference values of the national technical guides
FACT SHEET #21 | Quality framework for reliable fan pressurisation tests
FACT SHEET #27 | The Austrian building certification system IBO OEKOPASS
FACT SHEET #28 | Voluntary Green Building assessment paves the way for better as-built quality
FACT SHEET #30 | Critical situations on the construction site and ideas for quality assurance procedures: The German perspective
FACT SHEET #33 | Building air leakage rate in energy calculation and compliance procedures
FACT SHEET #42 | Selecting EPC input data for HVAC systems: a series of French guidance sheets
FACT SHEET #43 | baubook – easily accessible product information for EPC calculation provided by the Austrian database
FACT SHEET #44 | The quality assurance system of the German reconstruction loan corporation (KfW) in the field of energy-efficient construction and retrofitting (residential buildings)
FACT SHEET #45 | The Effinergie approach to ease transitions to new regulatory requirements
FACT SHEET #48 | Belgium/Flemish Region control and penalty scheme of the energy performance legislation: checking procedure and fines
FACT SHEET #50 | European certification of HVAC products can provide EPC input data
FACT SHEET #54 | Ductwork airtightness in France: regulatory context, control procedures, results
FACT SHEET #55 | Belgian/Flemisch evaluation scheme for ventilation systems
FACT SHEET #56 | Certification of experts for the issuance of EPCs in Sweden
All factsheets are freely accessible and browsable by date and topic at the QUALICHeCK website.