Highlights of the AIVC-TightVent & venticool 2018 joint Conference!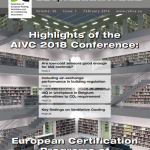 The February 2019 edition of the REHVA Journal has been released, including a selection of articles presented at the 39th AIVC – 7th TightVent & 5th venticool Conference, 2018 "Smart Ventilation for buildings" held in Juan-Les-Pins, France on September 18-19, 2018.
Specific articles include:
Are low-cost sensors good enough for IAQ controls? | Iain Walker, Woody Delp, Brett Singer (LBNL, USA)
Including air-exchange performance in building regulation | R.C.A. van Holsteijn (VHK Research, Netherlands), H.J.J. Valk (Nieman Raadgevende Ingenieurs B.V. , Netherlands), J. Laverge (Ghent University, Belgium), W.L.K. Li (VHK Research, Netherlands)
IAQ in workplace in Belgium: alternatives to CO2 requirement | Samuel Caillou (BBRI, Belgium), Jelle Laverge (Ghent University, Belgium), Peter Wouters (INIVE EEIG, Belgium)
Key findings on ventilative cooling | Peter Holzer, Philipp Stern Institute of Building Research & Innovation, Austria)
To download and read the full journal please visit: https://www.rehva.eu/publications-and-resources/rehva-journal/2019/012019.html
Stay tuned for the next issue of the REHVA journal with more highlights from the AIVC 2018 Conference!