MEZ AEROSEAL – The new tightness class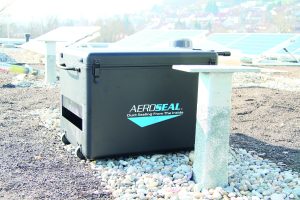 MEZ AEROSEAL
The new tightness class.
Solves the main problem of the air ducting industry and HVAC: leakage!
Reduces CO2 and increases energy efficiency.
Ensures hygienic comfort climate.
AEROSEAL is a unique and simply the only technology that seals already installed air ducting systems from the inside out, eliminating the main problem known in the industry while increasing efficiency, saving costs and keeping it sustainable. Leakage is a thing of the past! AEROSEAL ensures guaranteed tightness.
AEROSEAL is not only a good solution, but simply THE solution for ductwork construction:
Aeroseal offers guaranteed tightness (studies).
Unique method for sealing air ducts and for leak testing
ARSOEAL saves about 50% of energy costs in buildings
Globally, Aeroseal saves 1 GT of CO2 pa
New buildings: guaranteed tightness saves resources and materials such as sealant, sealing tapes, leakage allowances (20% in the design phase)
Tight ducts mean better air circulation